With my DSL and everything (switch, RB750, DSL modem, HP Microserver) being struck by lightning this week, I'm presently using my 3G for a bit of access. Just to ensure I don't trigger any massive out-of-bundle charges, I checked my remaining cap quickly so that I can then run a rough mental allocation of it all for the next while. Then I saw this: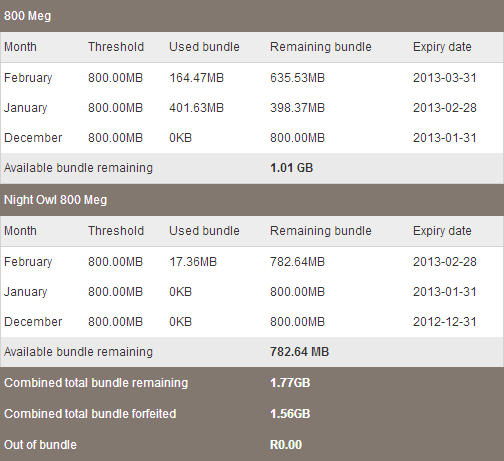 "Hang on a minute," I thought as I read the first block's data values, "that should be closer to 1.7GB remaining."
Then I scrolled down, saw the 'forfeited' counter, and began wondering whether these companies could be forced to stop making forfeiting part of their contracts. It's truly not like this is a technical problem. This is a business decision they've made to let bandwidth you've bought artificially expire.
A quick bit of math: assuming I use ~300MB a month (this appears to be the general level of data I use, based on a quick checking of my phone's stats), and that I've had this contract for 22 months now, and at the R268.99 I've been paying for the bundle each month:
(268.99/800)*500*22 = 3698.61
So that's R3700 of "forfeit", for no reason other than someone decided it'd be a good way to make money. And, as far as I know, all the operators in this country do this. For the less technical readers: as I mentioned before, there's no technical reason this happens. It's just an entry in some database, and can be updated. If anything, maintaining an expiry time on data probably leads to more technical issues than they'd otherwise have.
To compare, this would be like anyone buying up a bunch of things (toilet paper, toothpaste, whatever), and the storekeeper then removing it from your home if you haven't used in soon enough.